Spinningfields is now one of Europe's leading city centre real estate development projects built using Stranlite blocks.
Hardman Square is essentially comprised of four new commercial buildings alongside a public plaza lined with cafes, bars, and shops. The £1.5bn project forms the city's new financial district as it provides about 430,000m2 of prime commercial property. Outside of London few cities can boast such a commercial hotspot which demands such high premiums hence it being described as the Canary Wharf of the North. The Financial Times stated, "London has Canary Wharf and Paris has La Défense, Manchester has its own modern financial centre in the form of Spinningfields".
After a 20year rejuvenation masterplan Spinningfields is now one of Europe's leading city centre real estate development projects and has become the city's leading business destination, a legal quarter, a place to live and work as well as a place to eat, drink, shop and be entertained.
Michael Ingall, Chief Executive of Allied London said upon completion "Spinningfields has achieved its vision and will now without doubt continue to sustain and develop as the corporate heartbeat of the city and continue to set a benchmark for the development of city centre commercial environments."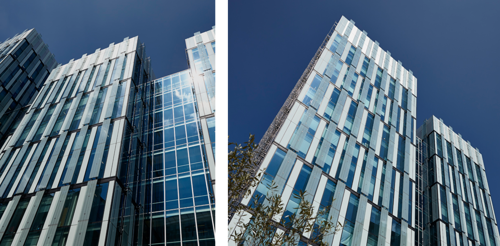 Architect: Foster & Partners
Foster & Partners is a global studio for sustainable architecture, urbanism, engineering, and design, founded by Norman Foster in 1967. Their vision states that design can be a catalyst for positive environmental change and their work is an attempt to realise this vision and to produce buildings that are ahead of their time. This is achieved through practices which integrates the skills of architecture with engineering, both structural and environmental and a strong focus on researching new technologies in order to implement new and groundbreaking techniques.
Client: Allied London Properties Ltd
Allied London are an established UK property development group which creates innovative, inspiring places to work, live, and socialise and has won over 75 industry awards for developments across London, Manchester, and Leeds. Allied London is an integrated team of developers, designers, managers, creatives, and strategists pulled together by a shared vision coupled with a disciplined corporate and financial management structure. They specialise in making urban environments work, undertaking meaningful, impactful projects that can create long lasting stories and ultimately make great places.
Main Contractor: BAM
BAM (a part of the larger Royal BAM Group) is one of the largest construction groups in Europe and is responsible for the implementation of thousands of projects every year. Some are spectacular (due to their size or technical complexity), but many others are more modest construction contracts. At present, they are currently undertaking projects in more than 30 countries around the world. BAM spearheaded the Spinningfields project with their flagship development, No.1 Spinningfields, a stunning feat of engineering with its two dramatic, cantilevered podiums topped by an 11-story tower dominating the new business district.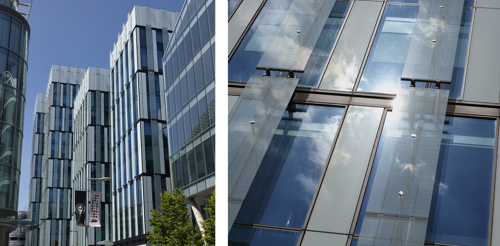 Plasmor Products used: Approx 8,000m² 100mm & 140mm Stranlite Paint Grade
Plasmor Stranlite Paint Grade building blocks are lightweight aggregate blocks ideal for commercial building projects. They are robust and durable and provide excellent fixability.  These well established, building regulation compliant, quality products, are the perfect choice for such an ambitious project. Find out more about what Stranlite building blocks can do for your construction projects today and download the datasheets, certificates and more.
This project was a particularly interesting one for the team at Plasmor seeing us overcome some challenging delivery access restrictions given the city centre location, including specific rigid vehicle types and some very early morning deliveries to avoid peak rush hour times in a very congested part of Manchester City Centre.