Manchester Airport's Terminal Two is now twice as big and even more impressive!
This extension is a part of Manchester Airport's transformational programme that was first announced in 2015. An innovative £1.3bn investment that has revolutionised the customer experience at the airport and now provides world class facilities. In 2021 Terminal 2 successfully re-opened, doubling the size of the terminal and showcased all the latest technology in a bright, modern environment. Housing a light and airy check in hall with designs that set the tone for what passengers can expect throughout the terminal, it offers the modern airport experience that families and businesses across the North deserve.
This is followed by a state-of-the-art security area with 10 lanes which are 29m long and all the latest technology to allow passengers to flow through as quickly and efficiently as possible. An exciting new departure lounge featuring a honeycomb light installation, paying tribute to the famous Manchester worker bee, and an 81sqm digital screen to provide interactive content and passenger information, really brings this terminal experience to life.  The new terminal also includes an array of new shops, bars and restaurants as this Northern Hub continues to play its role as a global gateway.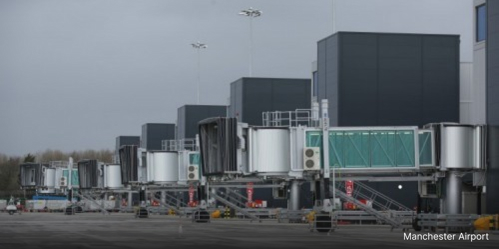 Architect: Pascall & Watson
Pascall & Watson are an award-winning international design practice with studios in the UK, Ireland and the Middle East and a history of projects that stretches across six continents, in over 100 cities. They are market leaders in the field of transportation design who are committed to improving the sustainability of the built environment and achieving the global goal of Net Zero Carbon by 2050. It was their team of creative professionals which offered the forward-thinking architecture, master planning, design management, interior design, wayfinding, and visualisation practices that brought the Manchester Terminal 2 Extension project to life. As recognition for their hard work the Manchester Terminal 2 development was a finalist in the Construction Enquirer Awards 2018, Best Construction Project.
Client: Manchester Airports Group (MAG)
MAG is a leading UK airport group and owns and operates three UK airports - Manchester, London Stansted, and East Midlands. As the largest UK owned airport operator, they contributed over £7bn in 2019-20 to the UK economy and supported over 130,000 jobs in the supply chain. With a strong focus on sustainability MAG has an extensive and ambitious strategy in place, with a target to be Net Zero carbon by 2038 – 12 years ahead of the national target. MAG was the first airport group in the UK to be certified as Carbon Neutral in 2016, was a founding member of Sustainable Aviation in 2005 and 100% of their airports' energy needs are achieved through renewable sources. Manchester airport has been recognised as the UK's Best Airport by Globe Travel Awards 2020.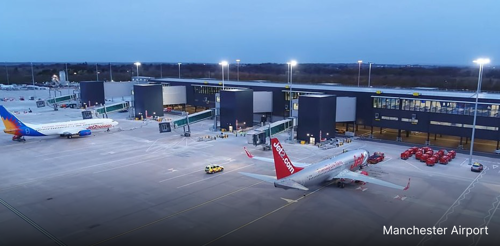 Main Contractor: Laing O'Rourke
The six-year terminal extension project was spearheaded by construction firm Laing O'Rourke an internationally renowned engineering and construction company with over 150years of experience. They deliver state of the art infrastructure with emphasis placed on certainty, reliability, and quality to ensure modern methods of construction. By having a world leader in aviation expertise leading the project it allowed construction to take place in a live airport environment used by 30 million passengers annually, and next to an active airfield. This invaluable expertise was fundamental in its success at delivering the project on time and within budget.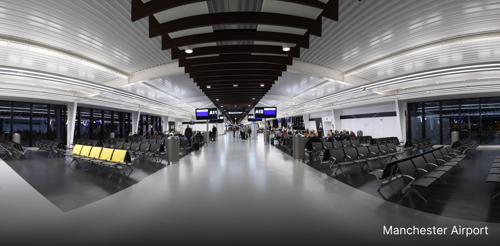 Plasmor Products used: Approx 5,000m² 140mm Stranlite Paint Grade
Plasmor Stranlite Paint Grade building blocks are lightweight aggregate blocks ideal for commercial building projects. They are robust and durable and provide excellent fixability.  These well established, building regulation compliant, quality products, are the perfect choice for such a groundbreaking building. Find out more about what Stranlite building blocks can do for your construction projects today and download the datasheets, certificates and more.
Image credits: